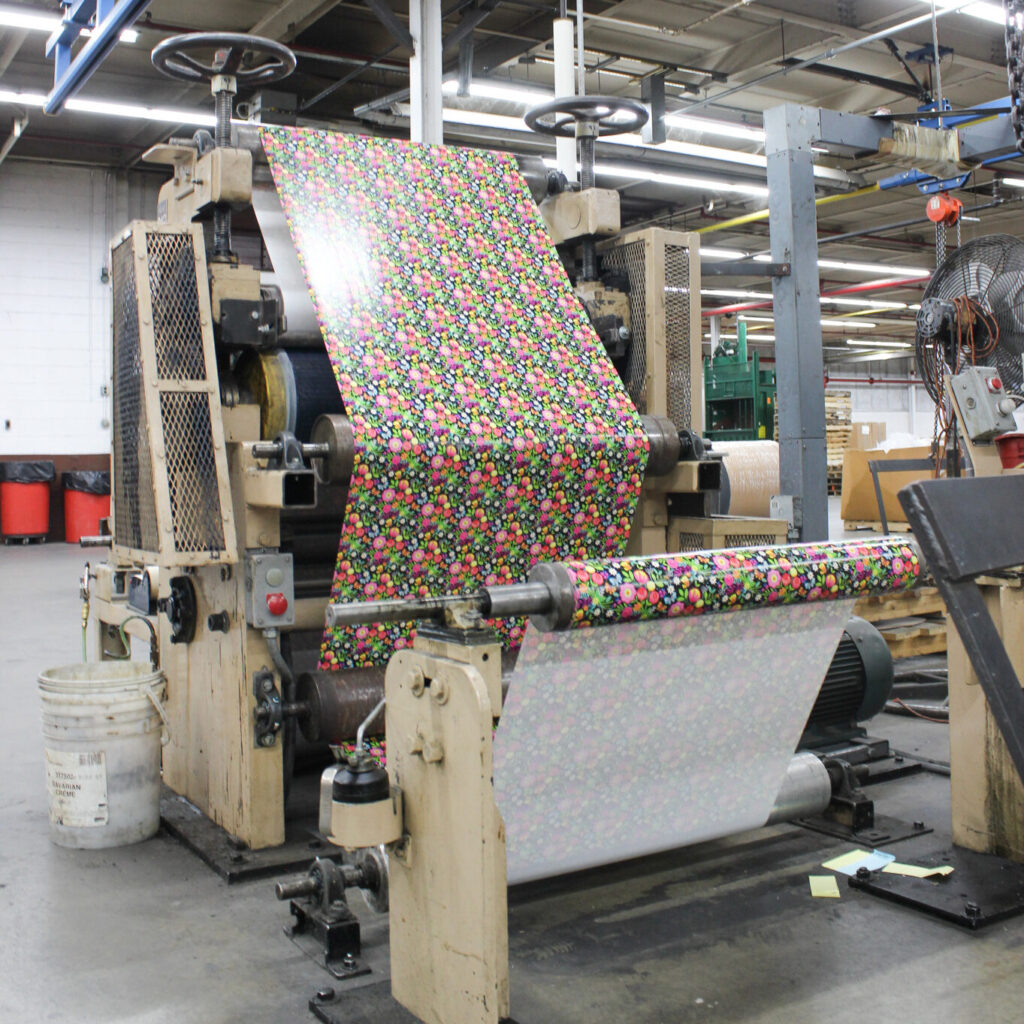 Custom Printed Wrapping Paper
Our relationships with printers across the country and around the world allow Mr. Gift Wrap to offer you an incredible variety of options for your custom printed gift wrap project.
Here are a few things to consider when starting out:
Pricing is based on your specific requirements, and we typically submit proposals within 24-48 hours of our initial discussion.
The minimum order is 10,000 linear feet per design. Of course, we do have the ability to print less, but the overall cost would not be much less because of the time involved in setting up the large printing presses that we use to produce your design.
Standard widths for bulk gift wrap rolls are 24" and 30", but we can accommodate many variations including the possibility of widths up to 36". We typically produce resale wrapping paper rolls in a 30" width, with lengths varying from 10' to 16'. For the bulk in-store gift wrapping, the typical roll is either 417' or 833' in length. There's a lot of flexibility here as well so we're sure we can meet your particular requirement.
In addition to custom printing, we can produce gift wrap in sheets, and we have an extensive library of embossing cylinders that can be used to add elegant textures to your finished project.
Standard packaging for resale rolls is to shrink wrap and bulk pack them in master cartons. Of course, we can do custom packaging and labeling including bar codes. Bulk rolls are individually packed in corrugated cartons.
We have various weights and types of papers and foils that we print on, all of which are well suited for high quality wholesale wrapping paper.
There are other costs involved. The biggest is usually the cost to engrave the print cylinders that will be used to produce your order. These can range from $275 – $800 per color depending on several factors, including your design and the factory that we decide to use for production. These cylinders are stored for a minimum of two years and can be reused for subsequent print runs. The two-year clock resets with each reprint.
Other costs to consider are additional components, such as a custom label and any special packaging requirements. There's also the cost of shipping, which can be estimated once the other specifications are settled.
Lead times vary based on the printer, the project, and the time of year. We find it best to work backward from the client's required in-hand date in developing a project timeline.
We prefer AI vector files for all artwork if available. We can help you with this and the development of your final artwork.
If any of this sounds like something you are interested in pursuing further with us, let's talk about your needs. We'll be happy to help you better understand the process and to prepare a proposal that will exceed your expectations!